Workshop with anna Nowicka at scen 46 24th of november at 18:00-21:00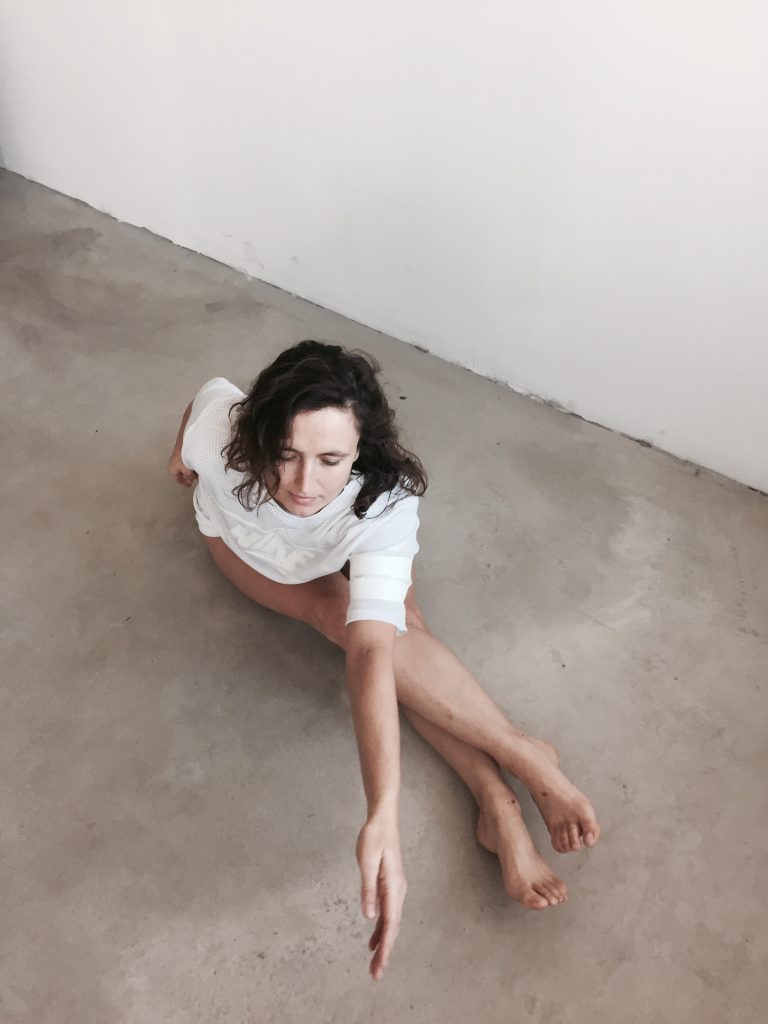 The Missing Parts of a Whole
Written, directed and performed by Ingeborg Zackariassen 2023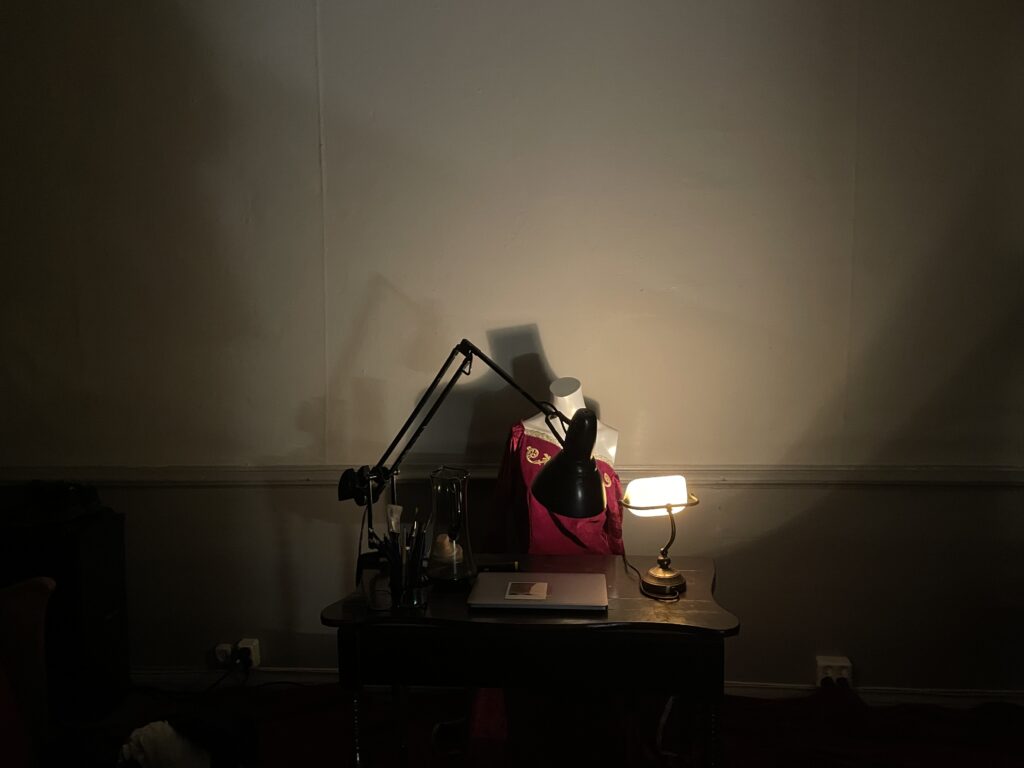 Welcome to my chamber…
I am your long-lost friend. Inside this room things are slightly different.
This may feel a bit awkward but please bear with me…

I wrote you a letter to prevent all my thoughts and feelings from disappearing.
They were about to evaporate –  like smoke.
No… Like… dust.
Take this bundle of flesh and thoughts and drag it from place to place for any amount of time. Think of the things you keep reminding yourself to do. Turn on the light. Turn off the light.Shed your skin once in a while. Sit up straight. Or don't. Write.Read. Dance. Repeat things. Repeat things.Whatever you do, do it all the time.Repeat some mistakes but do it with more joy.Try to imagine Sisyphus happy.Roll the stone up that hill again. This time with more joy.Feel like an outsider and let it empower you. Find belonging somewhere, even if it's just with yourself in a moment on a good day.Remember that you are always in transformation,Remind yourself to give yourself less reminders.Have a day where things flow. Find a bottle with a note at the bottom of it, a letter from yourself from many years ago. Break a bottle to get to a note. Let light illuminate you when it shines into your room. Read a note.Find some sense of meaning and let it slip away. Feel love. Feel love.Feel love.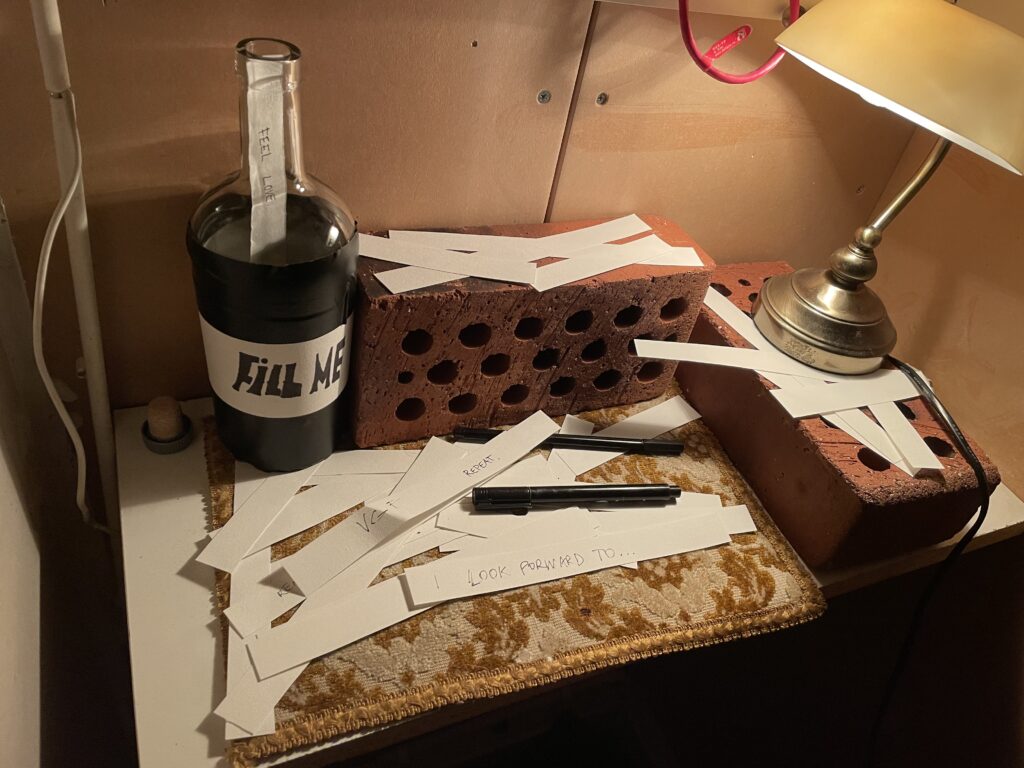 11/11, Ingeborg Zackariassen premiered her new solo performance
`The Missing Parts of a Whole´
during the Obsidian Festival at Gathenhielmska Huset. 
The solo was performed in a live dialogue-improvisation with Donovan von Martens and Erik Dahl, who sampled and processed the sound of the performance live from another room in the same building, transforming Ingeborgs transformations even further, 
Festival Obsidian is a home for the slow and minimalistic. A multidisciplinary meeting between acoustic instruments, movement, texts and performance in interaction with electronic processing.
If we call it ambient improvisation this is telling both of the devotion to details and of the spatial exploration. Three acts per evening will be allowed to ferment spontaneously at the different floors of Gathenhielmska Huset. As an audience you will get an experience that is shifting between harmony and friction, and which is experimental with an attraction towards the meditative.
Festival Obsidian is curated by Donovan von Martens and Erik Dahl and supported by Göteborgs Stad and Konstnärsnämnden.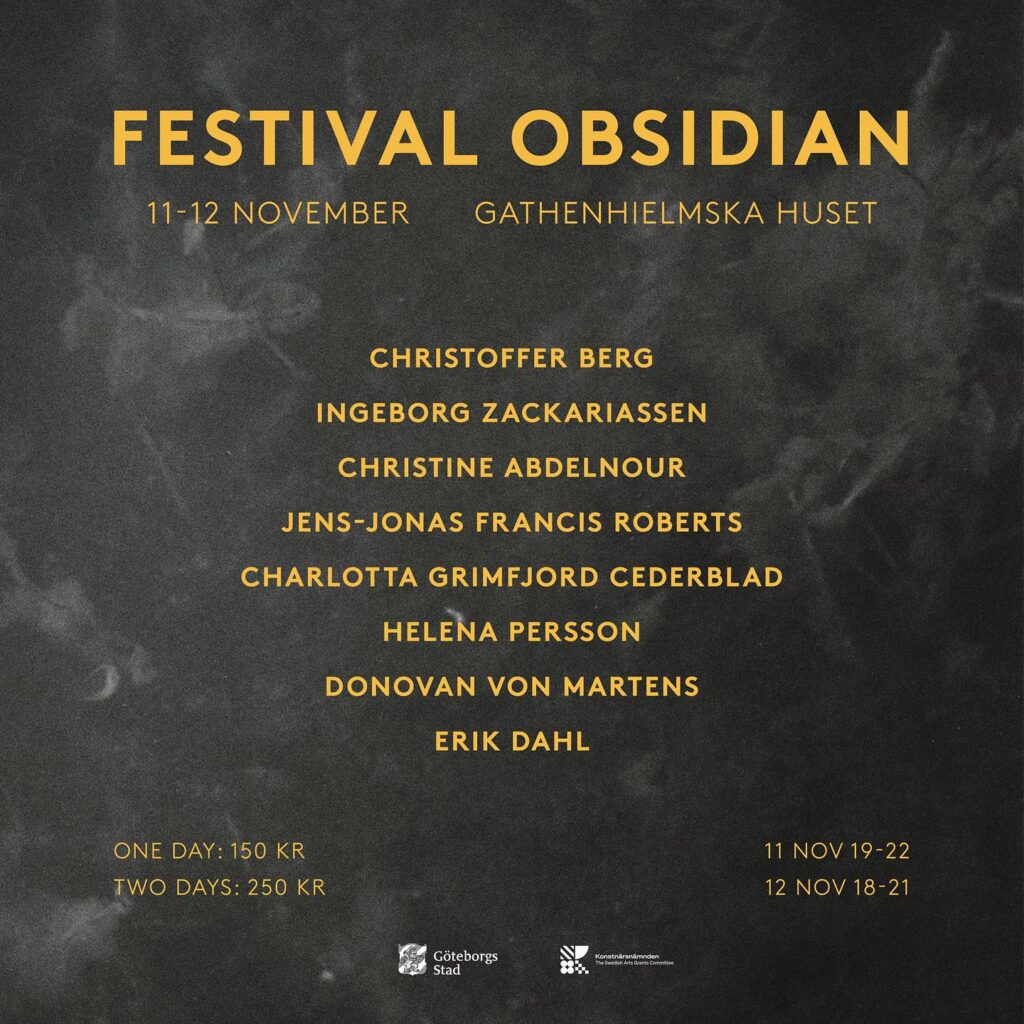 'Walk inside', performance at sockerbruket 27/10-2023
Creators/performers:
Ingeborg Zackariassen & Melina Bigale
MFA Contemporary Performative Arts/Kulturnatta/ 3:e Våningen/Gibca Extended
Melina Bigale and Ingeborg Zackariassen occupy the area outside 3:e Våningen/Sockerbruket, reclaiming the public space. Using their artistic practices of writing and drawing, they invite the audience to walk into a performative, slightly absurd situation. Bigale and Zackariassen combine observations of the environment and movements around them with their own inner landscapes. The audience and other passers-by become part of their stories, and through the artists inserting their individual digressions and fragments of fiction, a microcosm is created, leaving invisible doors open for an array of new narratives. 
Score for ´Walk inside´
– a parking installation with and by Melina Bigale and Ingeborg Zackariassen (180 min)
Ouverture (5 min)
Mode: Arrival.
We are arriving at the 30-min parking space outside Sockerbruket.
Tasks: We are spreading the paper. Building a little stand for the lantern. Placing the lantern. Turning on the light. Preparing the pens.
Part I: Location (25 min)
Mode: Silent communication.
Task: Writing/drawing improvisation.
Theme: Location.
Un-park and re-park (2 min)
Part II: People (30 min)
Mode: Observation.
Task: Writing/drawing improvisation.
Theme: People.
Un-park and re-park (2 min)
Intermission (15 min)
Part III: Time (13 min)
Mode: Spatial choreographic composition on the paper.
Task: Physical improvisation.
Theme: Time.
Un-park and re-park (2 min)
Part IV: The Subconscious (30 min)
Mode: Meditation.
Task: Flow.
Theme: The Subconscious.
Un-park and re-park (2 min)
Part V: Nature (30 min)
Mode: Internal.
Task: Fill.
Theme: Nature.
Un-park and re-park (2 min)
Part VI: Connections (20 min)
Mode: Recap.
Task: Finding connections.
Theme: Connections.
Finale (2 min)
Mode: Wrapping things up.
Task: Pack up paper, bricks, pens and lantern.
Leave.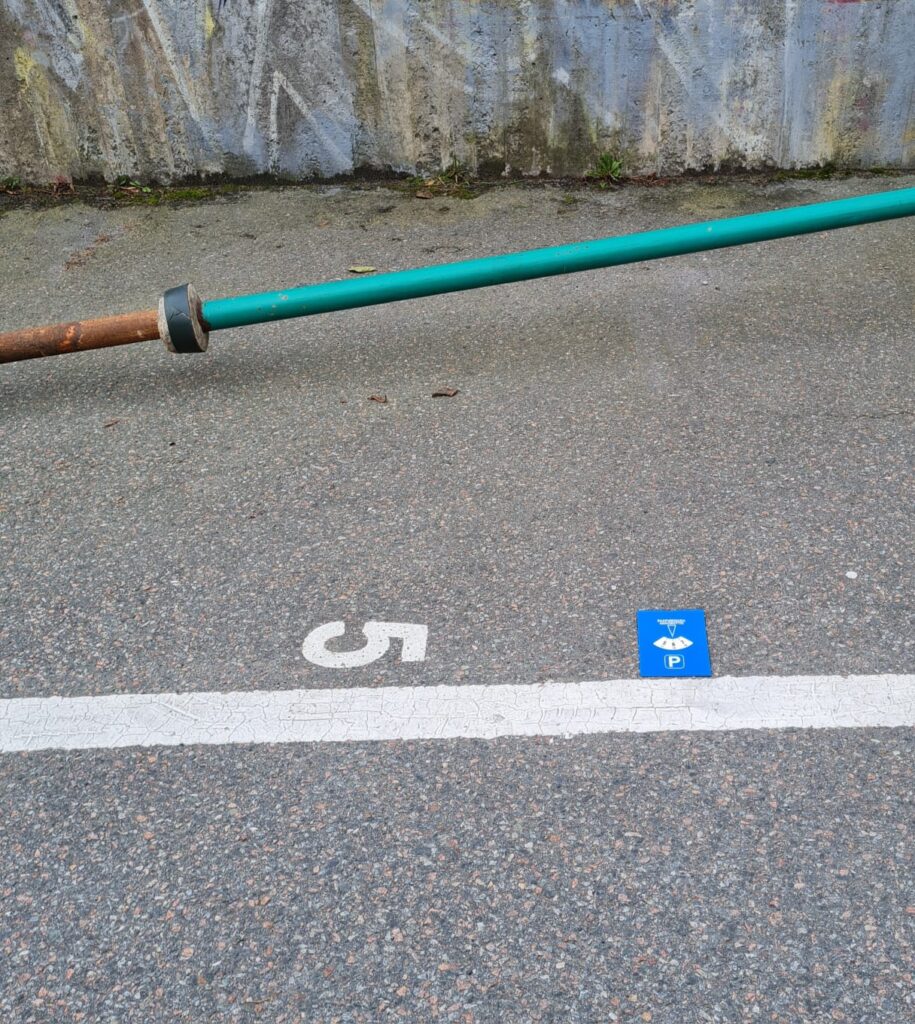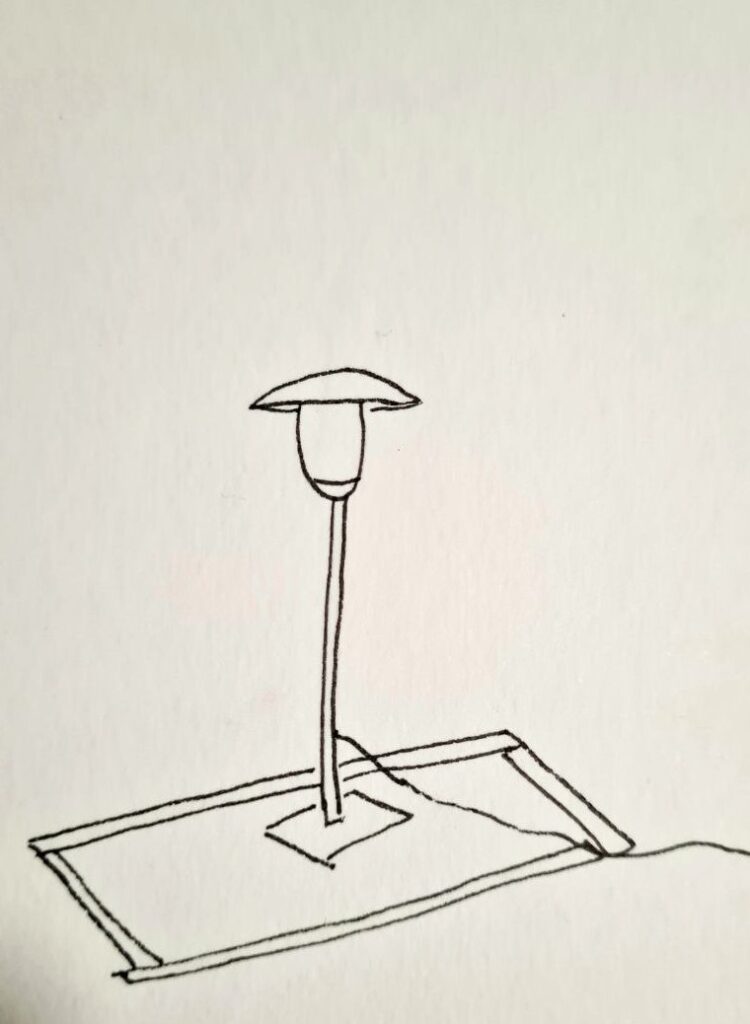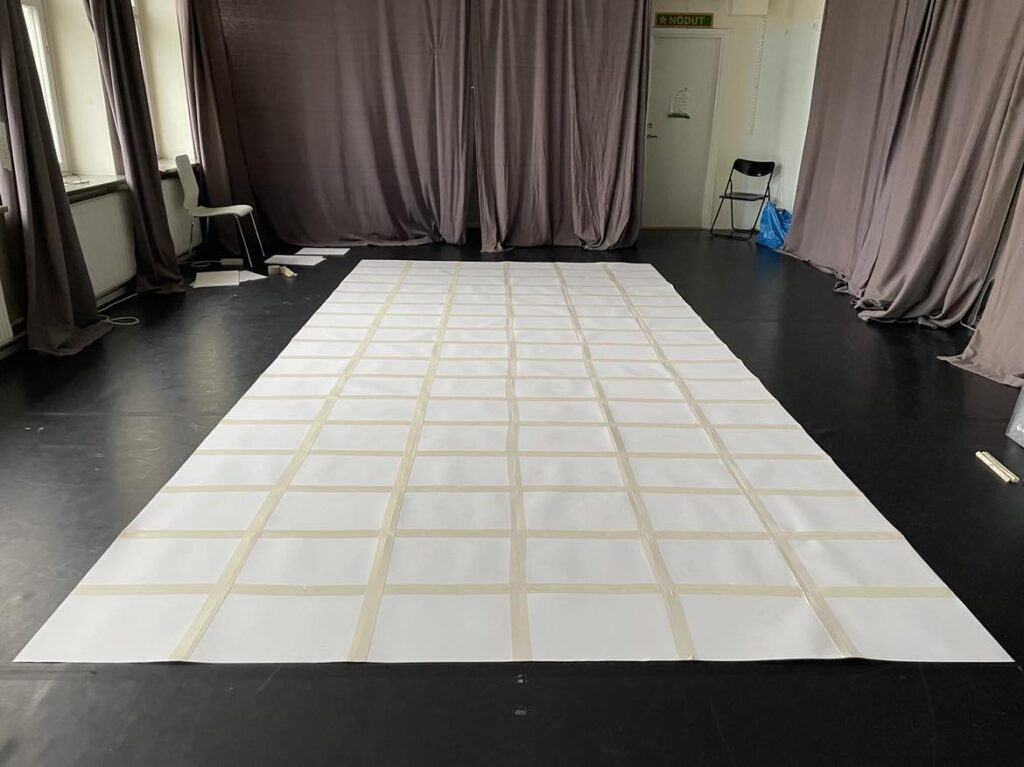 THE SAD and spiritual journey of a piano

'The sad and spiritual journey of a piano'
Götaplatsen 22/10-2023
Exchange residency
Gothenburg, Sweden & Vilnius, Lithuania
Creators/Performers:
Toby Kassell & Inga Kuznecova
Video: Emiliano Sacripanti/ Guest Platform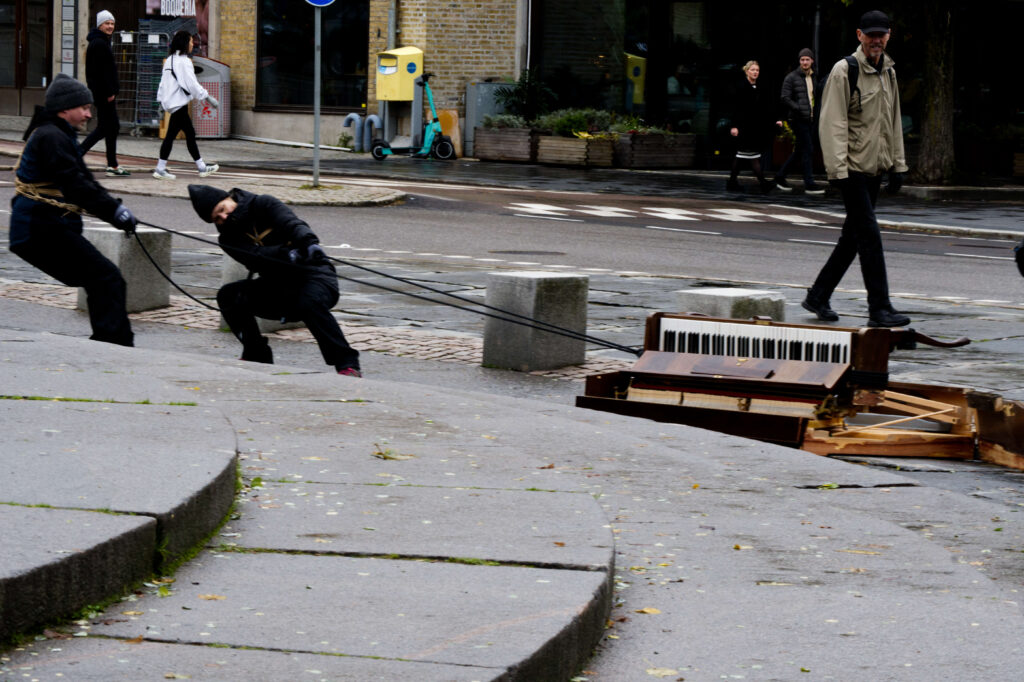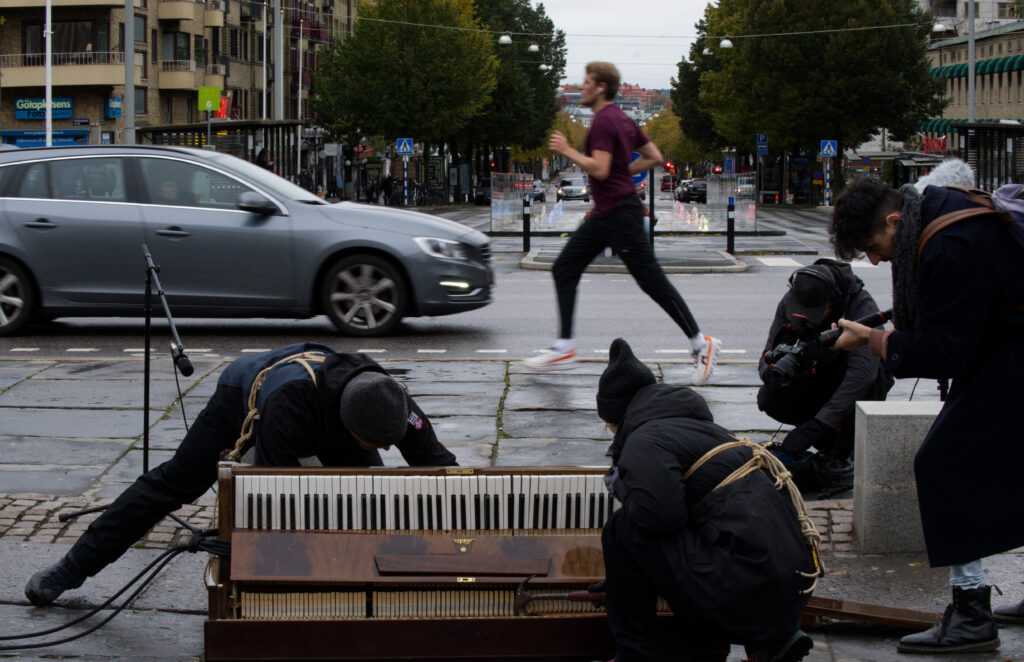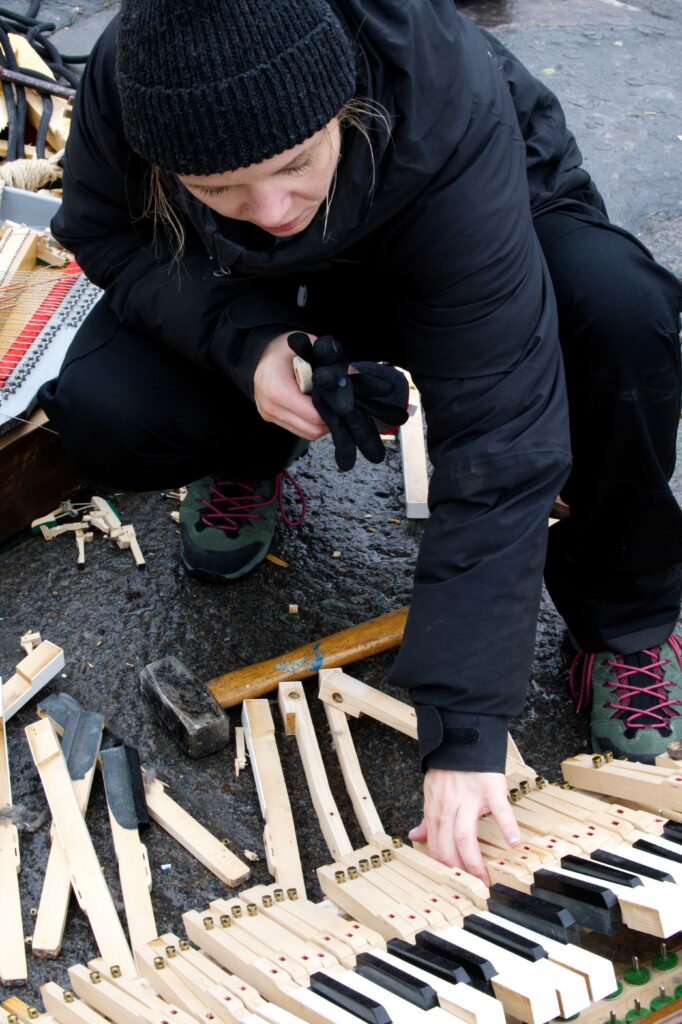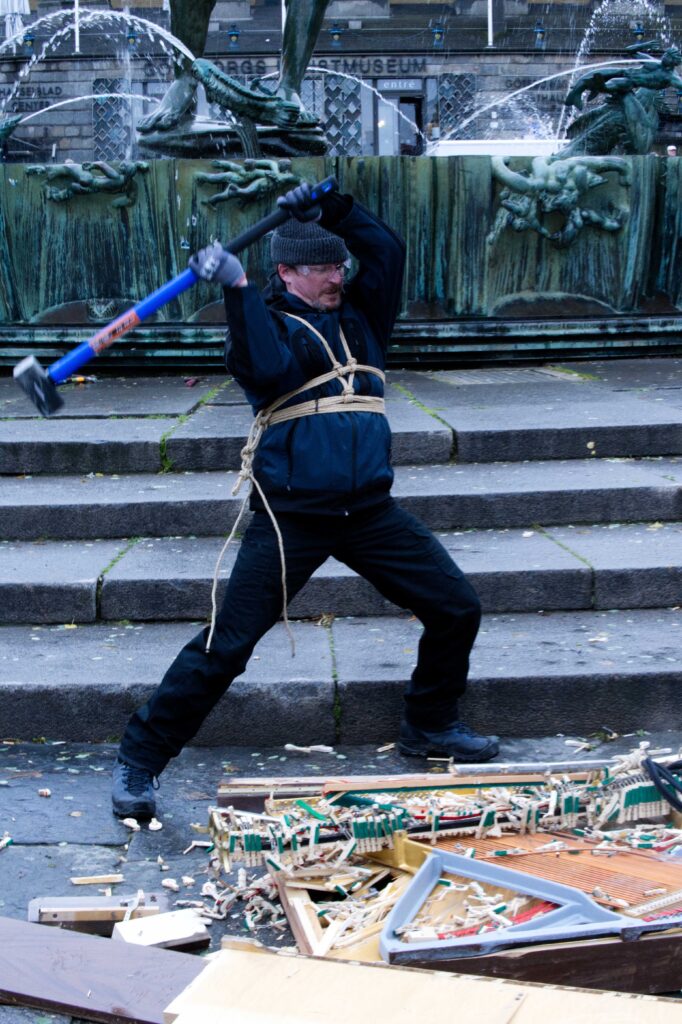 The Sad and Spiritual Journey of a Piano.
An artistic action performed at Götaplatsen, Göteborg and a studio presentation in Art Printing House
Vilnius, October 30th, 2023.
Götaplatsen is Gothenburg's cultural hub, enclosed by the Gothenburg Concert Hall (where the
Gothenburg Symphony Orchestra resides), the Gothenburg Museum of Art, the Gothenburg City Theatre
and the City Library. At the centre of the square presides the Poseidon statue by Carl Milles—the statue
has become one of the symbols of the city. On the city's annual culture festival different Swedish
musical artists usually perform for free at the square as well as dance performances from
GöteborgsOperans Danskompani.
This summer, in connection with Göteborgs Konsthall's  100 year anniversary exhibition "I imagine a Home", the City of Gothenburg funded an artwork that allowed a structure to occupy the square. It was called
Drömmarnas Monument [The Monument of Dreams], and acted as a Gesamtkunstwerk, a social sculpture, and a
three-month manifestation for freedom in the arts in Gothenburg. The work served as a stage for the
artist-driven and communal forces that characterize the soul of the city. This was a temporary collective
structure during the anniversary exhibition "I imagine a home". It acted as a forum for creativity and
discussions about current arts policy, gentrification, and the conditions for art in the city. The
Monument of Dreams, served as an artistic intervention in the middle of Götaplatsen.
As a background to the monument, there is an ongoing debate about the construction of the city's
cultural sites among rent increases, new high-rise buildings, fallen artistic activities and a cut cultural
budget. In what way is resistance to the orderly and the rational important in a democracy? What do we
dream of? What freedom are we talking about? The structure hosted many performances and artistic
actions during its occupation from artists across all genres and fields. Because of the attention this work
attracted it has now opened the flood gates for Götaplatsen to be a public space where artistic actions
can happen.
As part of an artistic residency funded by the Västra Götaland region (Dance+),  2 artists from the dance
field in Sweden (Toby Kassell) and Lithuania (Inga Kuznecova) were selected to spend 1 week in each
respected country to connect, share artistic visions, process strategies and lay the groundwork for
further possible collaborations in the future. Kassell and Kuznecova quickly decided to attempt a
physical action in a public space by dragging a piano, being physically attached with rope harnesses,
across Götaplatsen and then slowly destroy it with different sized hammers. This was documented with
sound and video recording, photographs and witnessed by the public. It became apparent that this type
of action can be contextualized by referring to the Fluxus movement of the last century and perhaps
also seen as an act of artistic protest by referring to Drömmarnas Monument.
It is important to note that the decision to publicly destroy the piano should not be viewed as a violent
or nihilistic act but rather the act of exposing the core of an idea, zooming in and attempting to find
something new, perhaps even something more honest within the work and within ourselves. The piano
that was included in the performance was no longer fully functional and beyond reasonable repair, its
presence becoming an aesthetic symbol of something rather than a practical tool for creating music. The
performance can also be seen as a homage to the instrument and a final performance before
retirement.
Small pieces of the piano (mostly keys, hammers and fragments of the internal frame) were collected
and transported to Vilnius to be incorporated in the second part of the residency where Kassell and Kuznecova created a studio performance and researched material drawing from the physical embodied
memories from the artistic action in Göteborg.
This material emerged through 5 days of improvisation with the physical objects collected from the
performance at Götaplatsen. Hemp ropes were replaced by hemp string which were tied in a similar
fashion to the body as in Sweden and connected to the keys, hammers and small metal frame fragments
of the piano. The large public square was replaced by an enclosed studio space. This may possibly be
considered as a zooming in or minimization/fragmentation of the original work. The performers bodies
were also connected in a similar way thereby connecting all physical material holistically. The
performers generated movement guided by the consequential sounds of the piano pieces and the
tension of the string between their bodies, maintaining the theme of dragging the piano in the original
score. This resulted in the dancers slowly becoming more and more entangled with the material drawing
their bodies closer and closer over the duration of the performance, progressively restricting the
movement possibilities until finally only the bare minimum was possible. 8 mins of edited film and
sound material was played on a loop as a backdrop for the duration of the performance as a direct
attempt to connect the work across international The work was shown in Art Printing House
Vilnius October 30, 2023.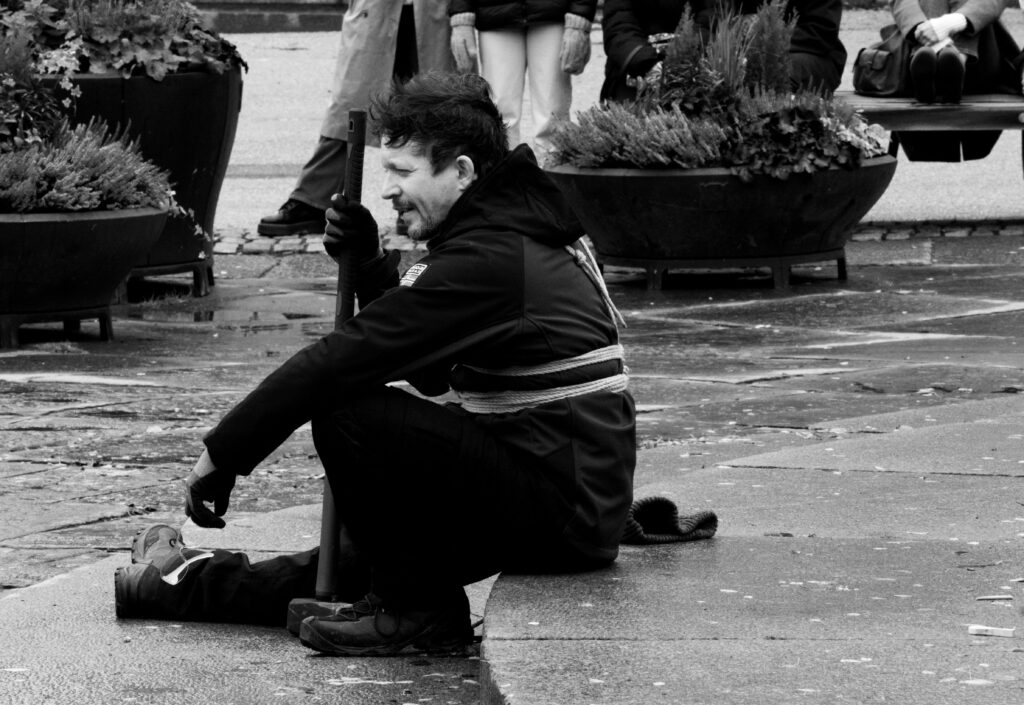 Rabbit/Duck FESTIVAL 1st edition 2023:
INTERDISCIPLINARY ART FESTIVAL
at scen 46
RABBIT/DUCK
is an interdisciplinary art festival at Scen 46, facilitated by No Deadline.
The festival is shown in connection with GIBCA Extended 2023, and is supported by Göteborgs Stad. 
During this two-day performative feast, dance, music, visual arts, and poetry will co-exist, creating an art symbiosis of different shapes and forms under the same roof.
Contemporary artists from different art fields will come together to break the borders between art forms and celebrate what we all have in common.
We aim to challenge categorization and constraints. In this time where art is under attack; where freedom of expression is put into question, we want to make a stand.
Perhaps through sharing our artistic practices we may realise the existence of something more profound, something more uniting…
RABBIT/DUCK wants to inspire and challenge our perception, our ways of seeing and experiencing the world. 
PROGRAMME:
Saturday the 14th: 
12:00 Doors open
Durational/at all times: Melina Bigale (installation)
18:00 Liza Penkova
19:00 Eleanor Bauer
21:00 Gusten Aldenklint
After the last act there will be more music and hangout, we keep it open as long as people wish to stay. 

Sunday the 15th:
12:00 Doors open
Durational/at all times: Melina Bigale (installation)
18:00 Arvid Kraft/Ingeborg Zackariassen 
19:00 Siri Landgren
20:00 Louisa Palmi/Toby Kassell
With the dancers Anna-Greta Himmer and Frida Olofsson
21:00 Tomas Hulenvik
ABOUT THE ARTISTS AND THEIR WORKS:
Stage performance,
ready and searching for stages:
Video: Donovan von Martens
Stage images move slowly through dreamlike states. Music and movement blend together as the absence of something – the loss of someone – becomes a presence in the room. The parameters of time and space lose direction, while the performers embody loneliness despite being together physically.
"Silence and Stillness" is a collaboration between No Deadline and french music trio Kepler joined by Linda Oláh, a singer who has collaborated with No Deadline on numerous occasions during the last decade.
The piece was created in 2022, during two residencies in Frölunda Kulturhus, Sweden (hosted generously by Torbjörn Alström) and
L´Astrada, Marciac, France.
"Silence and Stillness" is supported by the French Ministère de la culture – DRAC Occitanie and Göteborgs Stad.
On the 29th of August 2023, "Silence and Stillness" had its world premiere at Atalante, Gothenburg, Sweden.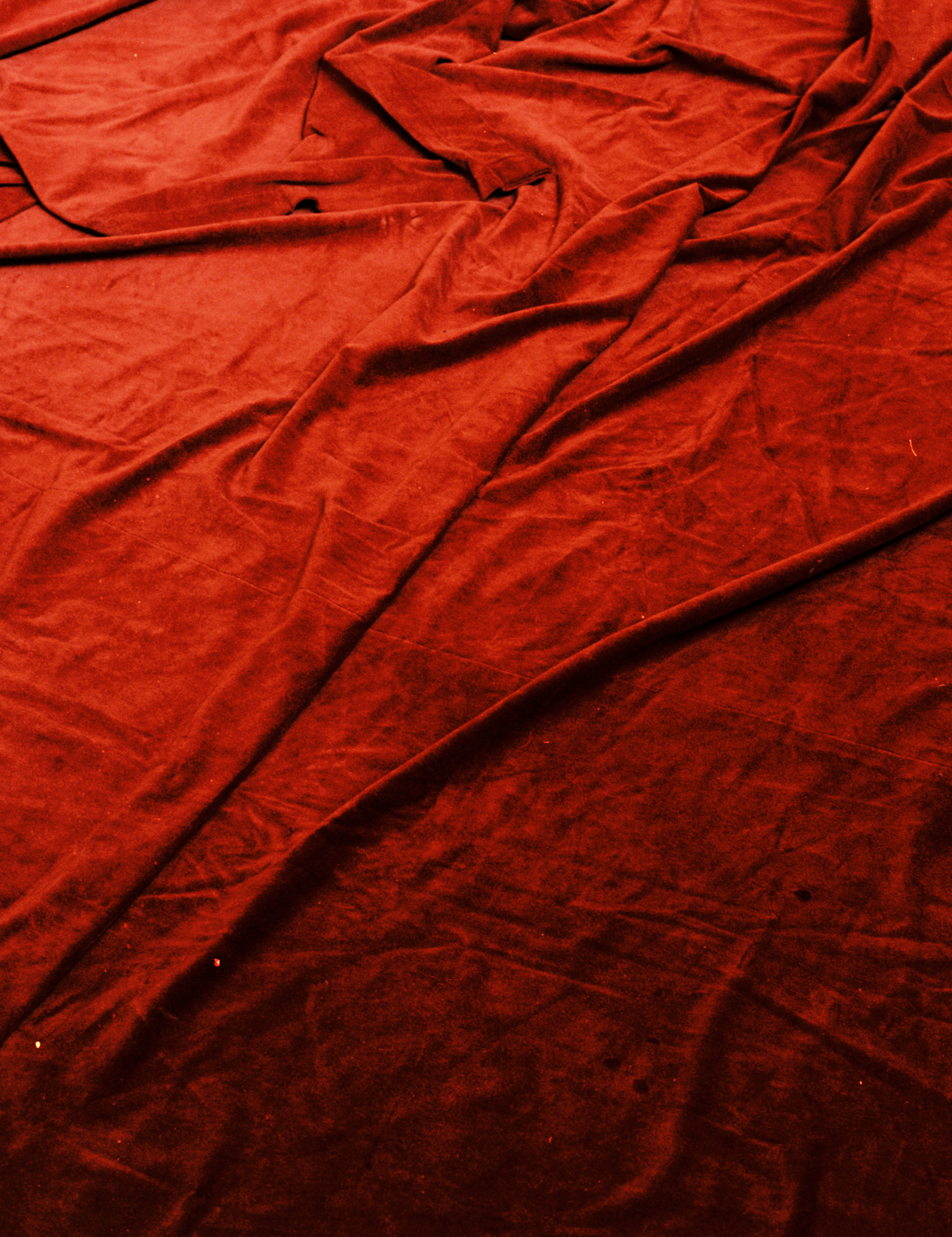 No Deadline is an art initiative based in Gothenburg, Sweden,  founded by Toby Kassell and Ingeborg Zackariassen.
Since spring 2023, we are resident artists at  scen 46 in Majorna, Gothenburg.
With a background in dance, we develop interdisciplinary work in collaboration with other artists.